N-Hydroxybenzotriazole, developed by W. König and R. Geiger in 1970 was the most popular additive during the last decades.
CAS: 123333-53-9
Synonym: Hydroxybenzotriazole
Solutions: Luxembourg Bio Technologies can provide various solutions of HOBt, per demand ( DMF, NMP, THF, others).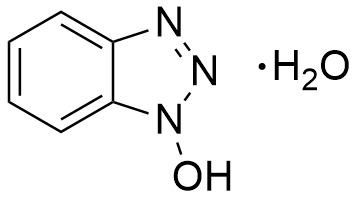 Molecular Formula
C6H5N3O•H2O
Molecular Weight
135.12 [gr/mol]
Appearance
White to off-white crystalline powder
Storage Conditions
Store in a cool and dry place
HOBt is one of the most effective suppressors of racemization in carbodiimide-mediated reactions.
The most important drawback of the additive lies in its explosive character, especially in water-free form. Therefore, its availability is more restricted today but it can be substituted by more stable additives as OxymaPure and K-Oxyma.
Polymer-bound HOBt is used for the formation of medium ring lactams with DCC in the presence of resin-bound esters and also for amides synthesis.
Kinetics of Amide Formation through Carbodiimide/N-Hydroxybenzotriazole (HOBt) Couplings
L. C. Chan and B. G. Cox J. Org. Chem., 2007, 72, 8863-8869.


Read Article

Explosive properties of 1-hydroxybenzotriazoles
K. D. Wehrstedt, P. A. Wandrey, and D. Heitkamp Journal of Hazardous Materials, 2005, A126, 1–7.


Read Article