TSTU is a peptide coupling reagent converts carboxylates to N-succinimidyl active esters.
CAS: 105832-38-0
Synonym: N,N,N′,N′-Tetramethyl-O-(N-succinimidyl)uronium tetrafluoroborate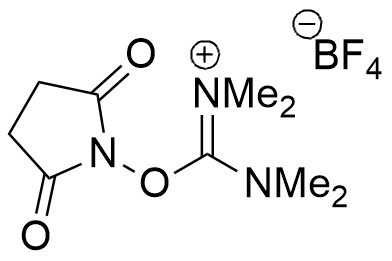 Molecular Formula
C9H16BF4N3O3
Molecular Weight
301.05 [gr/mol]
Appearance
White or off-white powder
Storage Conditions
Store in cool place
TSTU is used in intramolecular cyclization of 2-acyl-benzoic acids mediated, leading to diversely substituted (Z)-3-ylidenephthalides.  The application of the method is highlighted by gram-scale preparation of the antiplatelet drug n-butylphthalide.
TSTU, HOSu, and CuCl2 have been applied as coupling cocktail, proved to completely eliminate the racemization of the carboxy-terminal N-methylamino acid residue during segment condensation.
Polymer-TSTU and Polymer-HSTU have been prepared from polymeric Nhydroxysuccinimide (P-HOSu) and used as solid-supported reagents for peptide coupling reactions.
Transition-metal-free synthesis of (Z)-3-ylidenephthalides from 2-acyl-benzoic acids
B. H. Xinhua and X. Fengtian Tet. Lett., 2014, 55(11), 1956-1958.
O-(N-Succinimidyl)-1,1,3,3-tetramethyluronium Tetrafluoroborate– N-Hydroxysuccinimide–CuCl2: A Facile and Reliable System for Racemization-Free Coupling of Peptides Having a Carboxyterminal N-Methylamino Acid
Y. Nishiyama, S. Ishizuka, T. Mori, and K. Kurita Chem. Pharm. Bull., 2000, 48(3), 442-444.
Uronium salts from polymeric N-hydroxysuccinimide (P-HOSu) as new solid-supported peptide coupling reagents
R. Chinchilla, D. J. Dodsworth, C. Nájera, J. M. Soriano, and M. Yus ARKIVOC (Gainesville, FL, United States), 2003, 10, 41-47.