TCTU is a Coupling reagent used for peptide solid-phase synthesis. Suitable for automatic multiple peptide synthesizers.
CAS: 330641-16-2
Synonym: O-(1H-6-Chlorobenzotriazol-1-yl)-1,1,3,3- tetramethyluronium tetrafluoroborate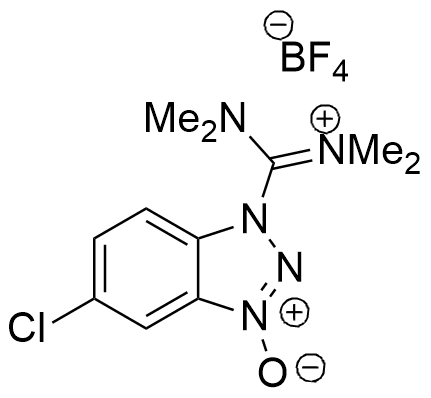 Molecular Formula
C11H15BClF4N5O
Molecular Weight
355.53 [gr/mol]
Appearance
White to off-white crystalline powder
Storage Conditions
Store in a cool and dry place (2-8oC)
TCTU shows better results when compared to TBTU.
Assessment of 6Cl-HOBt-based coupling reagents in solid-phase cyclopeptide synthesis
G. Sabatino, M. C. Alcaro, M. de la Cruz Pozo-Carrero, M. Chelli. P. Rovero, A. M. Papini  Biopolymers, 2003.


Read Article

Amide bond formation: beyond the myth of coupling reagents
E. Valeur and M. Bradley Chem. Soc. Rev., 2009, 38, 606-631.
Thermal Stability Assessment of Peptide Coupling Reagents Commonly Used in Pharmaceutical Manufacturing
Jeffrey B. Sperry*, Christopher J. Minteer, JingYa Tao, Rebecca Johnson, Remzi Duzguner, Michael Hawksworth, Samantha Oke, Paul F. Richardson, Richard Barnhart, David R. Bill, Robert A. Giusto, and John D. Weaver III
Org. Process Res. Dev. 2018, 22, 9, 1262–1275