T-BEC® is a novel carbodiimide that outperforms DIC, and does not lead to HCN formation in the presence of OxymaPure. Its urea (TBEU) is highly soluble in DMF and most of the green and binary solvents.
CAS: 1433-27-8  
Synonym: 1-tert-Butyl-3-ethylcarbodiimide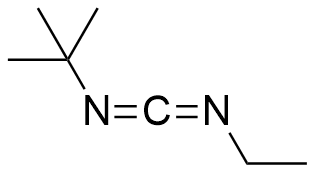 Molecular Formula
C7H14N2
Molecular Weight
126.20 [gr/mol]
Appearance
Light yellow to colorless transparent liquid
Storage Conditions
Store in a cool and dry place (2-8oC)
T-BEC® carbodiimide surpasses DIC in terms of efficiency, making it a more effective coupling reagent.
In contrast to DIC, T-BEC® does not generate an oxadiazole side-product when used with OxymaPure, eliminating the formation of HCN.
T-BEC® urea (TBEU) demonstrates exceptional solubility in commonly employed peptide coupling solvents like DMF or NMP, as well as future green/ binary solvents. This reduces the risk of equipment clogging during manufacturing.
T-BEC® employs the same coupling protocols as other carbodiimides, ensuring easy integration into existing chemical processes.
T-BEC® is recognized as a greener coupling reagent, offering environmentally friendly properties and contributing to sustainable chemical practices.
tert-Butylethylcarbodiimide as an Efficient Substitute for Diisopropylcarbodiimide in Solid-Phase Peptide Synthesis: Understanding the Side Reaction of Carbodiimides with OxymaPureSrinivasa Rao Manne, Damilola Caleb Akintayo, Omar Luna, Ayman El-Faham, Beatriz G. de la Torre, and Fernando AlbericioOrganic Process Research & Development 2022 26 (10), 2894-2899       DOI: 10.1021/acs.oprd.2c00220
Amide Formation: Choosing the Safer Carbodiimide in Combination with OxymaPure to Avoid HCN ReleaseSrinivasa Rao Manne, Omar Luna, Gerardo A. Acosta, Miriam Royo, Ayman El-Faham, Gyorgy Orosz, Beatriz G. de la Torre, and Fernando AlbericioOrganic Letters 2021 23 (17), 6900-6904    DOI: 10.1021/acs.orglett.1c02466

Read Article