PyOxim® is a novel and highly efficient coupling reagent which mediates coupling reactions with efficiencies superior to HATU and PyBOP® and comparable to COMU®.
CAS: 153433-21-7
Synonym: [Ethyl cyano(hydroxyimino)acetato-O2]tri-1-pyrrolidinylphosphonium hexafluorophosphate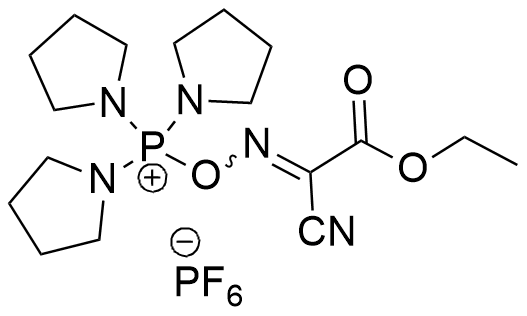 Molecular Formula
C17H29F6N5O3P2
Molecular Weight
527.38 [gr/mol]
Appearance
White crystalline powder
Storage Conditions
Store in a cool and dry place (2-8oC)
It has excellent solubility in DMF and is stable in solution under an inert atmosphere for two days.
PyOxim® shows higher stability in acetone and DMF than all benzotriazole counterparts, consequently standing out as promising choice for cyclization.
Furthermore, PyOxim®

 

is safer to handle and less allergenic than HOBt-based coupling reagents, and it is not explosive under normal operating conditions.
PyOxP and PyOxB: the Oxyma-based novel family of phosphonium salts
Ramon Subir´os-Funosas, Ayman El-Faham and Fernando Albericio Org. Biomol. Chem., 2010, 8, 3665–3673.


Read Article
Fast conventional Fmoc solid-phase peptide synthesis: a comparative study of different activators
Christina Ann Chantell, Michael Abayomi Onaiyekan and Mahendra Menakuru J. Pept. Sci. 2012; 18: 88–91.


Read Article
Solid phase peptide synthesis of 'difficult sequences' using Pyoxim
Erik Holm Nielsen and Troels Skrydstrup
View Poster
Evaluation of the "ResPep continuous flow synthesizer" with real-time UVmonitoring,
automated feedback & heating in solid phase peptide synthesis
Felix Niethammer, Daniel Maisch, Marcus Rothe
INTAVIS Bioanalytical Instruments AG    https://intavis.com/
View Poster