The chloro-phosphonium coupling reagent PyCloP was developed as an alternative to the BOP reagent, avoiding the release of the toxic HMPA in the activation step.
CAS: 133894-48-1
Synonym: Chlorotripyrrolidinophosphonium hexafluorophosphate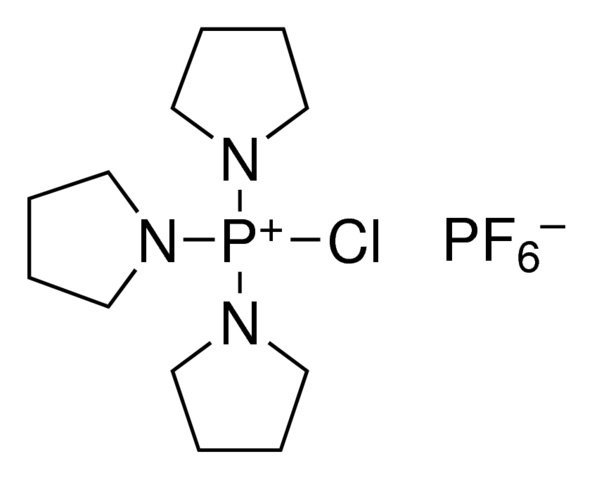 Molecular Formula
C12H24ClN3P · PF6
Molecular Weight
421.73 [gr/mol]
Appearance
White to off-white crystalline powder
Storage Conditions
Store in a cool and dry place (2-8oC)
PyCloP often gives better results than other phosphonium-HOBt reagents, for the coupling of N-methylated amino acids.
PyCloP, as other phosphonium salts, cannot react with free amine function and therefore does not terminate the peptide growing as the aminium salts do, through the formation of guanidine derivatives.
Coupling N-Methylated Amino Acids Using PyBroP and PyCloP Halogenophosphonium Salts: Mechanism and Fields of Application
J. Coste, E. Frerot, P. Jouin J. Org. Chem., 1994, 59 (9), pp 2437–2446.