PyAOP is a phosphonium salt derived from HOAt, is generally more efficient than BOP and PyBOP as coupling reagent.
CAS: 156311-83-0
Synonym: (7-Azabenzotriazol-1-yloxy)tripyrrolidinophosphonium hexafluorophosphate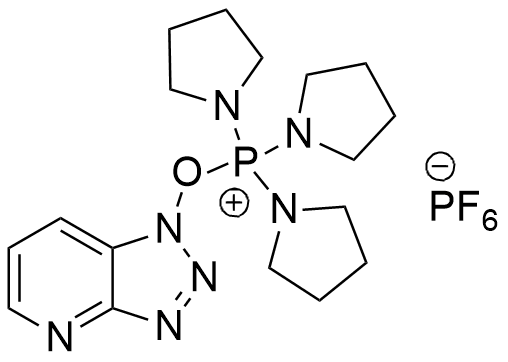 Molecular Formula
C17H27F6N7OP2
Molecular Weight
521.38 [gr/mol]
Appearance
White to off white crystalline powder
Storage Conditions
Store in a cool and dry place
This pyrrolidino derivative PyAOP does not release the toxic HMPA in the activation step.
PyAOP, as other phosphonium salts, cannot react with free amine function and therefore does not terminate the peptide growing as the aminium salts do, through the formation of guanidine derivatives.
It is special advantageous for cyclization reactions.
On the Use of PyAOP, a Phosphonium Salt Derived from HOAt, in Solid-Phase Peptide Synthesis
F. Albericio, M. Cases, J. Alsina, S. A. Triolo, L. A. Carpino, and S. A. Kates. Tetrahedron Lett., 1997, 38, 4853-4856.
Advantageous Applications of Azabenzotriazole (Triazo1opyridine)-based Coupling Reagents to Solid-phase Peptide Synthesis
L. A. Carpino,  A. El-Faham, C. A. Minorb, and F. Albericio J. Chem. Soc., Chem. Commun., 1994, 201-203.
Thermal Stability Assessment of Peptide Coupling Reagents Commonly Used in Pharmaceutical Manufacturing
Jeffrey B. Sperry*, Christopher J. Minteer, JingYa Tao, Rebecca Johnson, Remzi Duzguner, Michael Hawksworth, Samantha Oke, Paul F. Richardson, Richard Barnhart, David R. Bill, Robert A. Giusto, and John D. Weaver III
Org. Process Res. Dev. 2018, 22, 9, 1262–1275