OxymaPure®, an ideal additive used with carbodiimide coupling methodology, for amide bond formation.  The 2-cyano-2-(hydroxyimino)acetate displays a remarkable capacity to suppress racemization and an impressive coupling efficiency in both automated and manual synthesis.
OxymaPure® derived products are extensively adopted in pharmaceutical platform for the synthesis of various scaffolds such as Weinreb Amides; Oligobenzamides; ester bond formation and more.
OxymaPure® is a registered trademark of our company, Luxembourg Bio Technologies Ltd., and we are the exclusive manufacturers.
OxymaPure® being in the process of REACH registration due to it's massive demands.
CAS: 3849-21-6
Synonym: Ethyl(hydroxyimino)cyanoacetate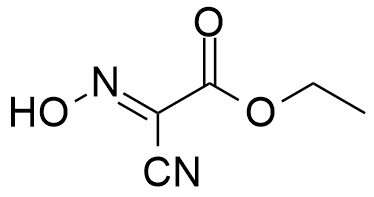 Molecular Formula
C5H6N2O3
Molecular Weight
142.11 [gr/mol]
Appearance
White to off-white crystalline powder
Storage Conditions
Store in a cool and dry place (2-8oC)
OxymaPure®, pKa=4.60 – The Pharmaceutical Grade of Ethyl(2-hydroxyimino)cyanoacetate.
OxymaPure® is a registered Trade Mark of Luxembourg Bio Technologies Ltd.
The product produced in unique technology which developed by Luxembourg Biotechnologies R&D. This technology allows to achieve a free of salts product with more than 99.5% purity and to control the ratio between the active Oxim to none active Nitroso.
OxymaPure® has been tested for oral toxicity and dermal irritation and was found as non-toxic and non-allergic.
Safety investigations clearly showed that OxymaPure® has less risk of explosively and flammability than existing products for same purposes Safe (LD50 = 300-2000 mg/kg) and has no limitation in land, sea and air transportation (low risk of explosion).
OxymaPure® is considered as an excellent replacement for HOBt, HOAT, HOOBt, HOPO, Cl-HOBT and other analogues (without change of protocol).
OxymaPure® gives results comparable to HOAt in step-wise Solid Phase Synthesis.
Less epimerization than HOBt in fragment condensation reactions.
OxymaPure® as pH modulatory agent can be used in the prevention of base driven side reactions and its effect on 2-Chlorotrityl Chloride Resin.
OxymaPure® offers the best balance between reactivity and stability, in addition to its high solubility in a broad spectrum of solvents.
The highly polar nature of OxymaPure® influences the water solubility, which is essential to removing the coupling byproducts in solution-based acylations. On the other hand, the great solubility of OxymaPure® in organic solvents has prompted its use in the evaluation of green alternatives to DMF.
Combination of TFFH and OxymaPure® raised the percentage of the target Aibpeptide in comparison to TFFH alone (98% vs 95%).
In TFE–DCM (1:1) system OxymaPure® and DIP is effective additive in cyclization (lowest yield of intermolecular coupling product).
OxymaPure® reducing almost completely the proline-based overcoupling during solid-phase elongation of Pro-enkephalin (H-Tyr-Pro-Pro-Phe-Leu-NH2).
High-Efficiency Solid Phase Peptide Synthesis (HE-SPPS)
J. M. Collins, K. A. Porter, S. K. Singh, and G. S. Vanier Org. Lett. 2014, 16, 940−943.


Read Article

    Liberty Blue™
Oxyma Pure: a safe and efficient substitute for HOBt and HOAt
Ramon Subirós- Funosas, Ayman El-Faham, Fernando Albericio
View Poster
Using Acetonitrile and Tetrahydrofuran Instead of N,N-Dimethylformamide in Peptide Bond Formation
Yahya E. Jad, Gerardo A. Acosta, Sherine N. Khattab, Beatriz G. de la Torre, Thavendran Govender, Hendrik G. Kruger, Ayman El-Faham, and Fernando Albericio
View Poster