HOPO can be used as an additive during peptide synthesis to reduce racemization and thereby increase chiral purity of the final product. Its solubility in water makes it especially useful during solution-phase peptide synthesis. HOPO has also shown to be useful in other applications, including the functionalization of self-assembled monolayers.
CAS: 13161-30-3
Synonym: 2-Hydroxypyridine-N-oxide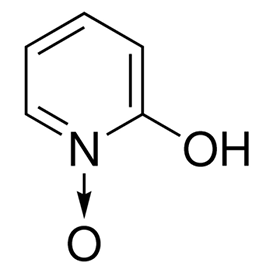 Molecular Formula
C5H5NO2
Molecular Weight
111.10 gr/mol
Appearance
Off-white to brown powder
Storage Conditions
keep in a cool place
HOPO is mainly used in amide bond formation in peptide synthesis.
HOPO can also be used to remove iron ions by chelation from human transferrin.
The ability of self-assembled monolayers on mesoporous silica supports functionalized with HOPO to remove lanthanides.
Ho, G.J., Emerson, K.M., Mathre, D.J., Shuman, R.F., Grabowski, E.J.J. Carbodiimide-mediated amide formation in a two-phase system. A high-yield and low-racemization procedure for peptide synthesis.J.Org.Chem.1995, 60, 3569-3570.


Read Article

E. Quirk, C. Davies, P. Foy, A. Bretnall, G. S. Clarke Determination of 2-Hydroxypyridine-1-Oxide (HOPO) at sub-ppm levels using derivitization and gas chromatography with mass spectrometry detection (GCMS)Journal of Pharmaceutical and Biomedical Analysis 92 (2014) 127–134


Read Article