HDMC is an aminium-type coupling reagent derived from dimethylmorpholino urea. In addition to decreasing the racemization level, the morpholine moiety has a remarkable effect on the stability and reactivity of the reagent.
HDMC is a registered patent of Luxembourg Bio Technologies (No. 101784522/8,524,898).
CAS: 1082951-62-9
Synonym: 6-chloro-1-((dimethylamino)(morpholino)-methylene)-1H-benzotriazolium hexafluorophosphate 3-oxide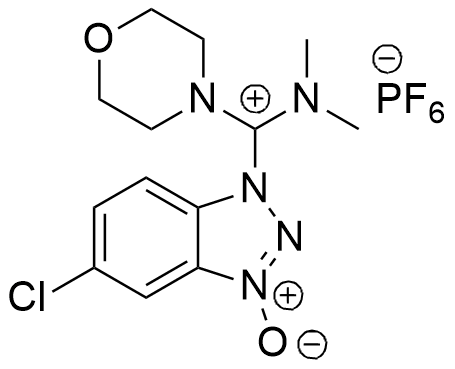 Molecular Formula
C13H17ClF6N5O2P
Molecular Weight
455.72 [gr/mol]
Storage Conditions
Store in a cool and dry place
HDMC used together with OxymaPure® has been used to prepare COMU in situ and therefore to overcome the rather low stability of COMU in solvents such as DMF.
HDMC/OxymaPure combination has been found to be the best coupling reagents for Automated Peptide Synthesizer.
Morpholine-Based Immonium and Halogenoamidinium Salts as Coupling Reagents in Peptide Synthesis
A. E. Faham and F. Albericio J. Org. Chem. 2008, 73, 2731-2737.


Read Article