Peptide coupling agent with increased coupling efficiency and lower racemization compared to HATU.
CAS: 958029-37-3
Synonym: 1-[(Dimethylamino)(morpholino)methylene]-1H-[1,2,3]triazolo[4,5-b]pyridine-1-ium 3-oxidehexafluorophosphate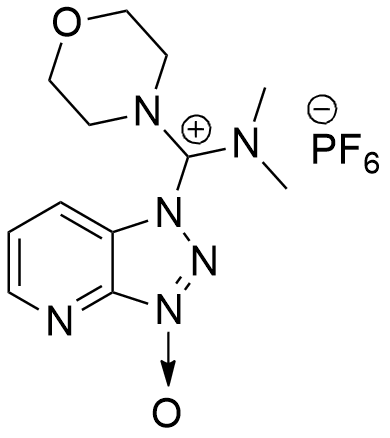 Molecular Formula
C12H17F6N6O2P
Molecular Weight
422.3 [gr/mol]
Appearance
White to off-white crystalline powder
Storage Conditions
Store in a cool and dry place (2-8oC)
The oxygen in the carbocation moiety confers more solubility to the reagent, allowing to carry out the reaction at higher concentration and facilitating the removal of side products when chemistry is carried out in solution.
HDMA enhances coupling yields and decreases racemization, allowing the use of just 1 equiv of base.
Novel Proton Acceptor Immonium-Type Coupling Reagents: Application in Solution and Solid-Phase Peptide Synthesis 
A. El-Faham and F. Albericio Org. Lett., 2007, 9 (22), pp 4475–4477.


Read Article

Thermal Stability Assessment of Peptide Coupling Reagents Commonly Used in Pharmaceutical Manufacturing
Jeffrey B. Sperry*, Christopher J. Minteer, JingYa Tao, Rebecca Johnson, Remzi Duzguner, Michael Hawksworth, Samantha Oke, Paul F. Richardson, Richard Barnhart, David R. Bill, Robert A. Giusto, and John D. Weaver III
Org. Process Res. Dev. 2018, 22, 9, 1262–1275