HCTU is an aminium-based coupling reagent, analogous to HBTU, which in comparative studies was found to give superior results to TBTU in the synthesis of difficult peptides, in hindered couplings, and cyclizations.
CAS: 330645-87-9
Synonym: O-(1H-6-Chlorobenzotriazole-1-yl)-1,1,3,3-tetramethyluronium hexafluorophosphate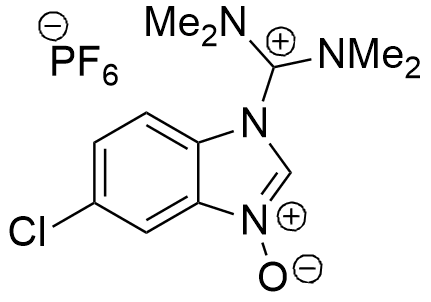 Molecular Formula
C11H15ClF6N5OP
Molecular Weight
413.69 [gr/mol]
Appearance
White to off-white crystalline powder
Storage Conditions
Store in a cool and dry place (2-8oC)
HCTU is a highly efficient coupling reagent that could be used as a low-cost alternative to more expensive, highly efficient reagents such as HATU when fast coupling times (5 min or less) are desired. Fast coupling times promote increased productivity, and in some cases may also result in purer crude peptides by not allowing kinetically slower side reactions to compete.
Fast conventional Fmoc solid-phase peptide synthesis: a comparative study of different activators
C. A. Chantell, M. A. Onaiyekan, M. Menakuru J. Pept. Sci., 2012, 18, 88–91.  


Read Article

Fast conventional Fmoc solid-phase peptide synthesis with HCTU
C. A. Hood, G. Fuentes, H. Patel, K. Page, M. Menakuru, and J. H. Park J. Pept. Sci., 2008, 14, 97–101.


Read Article

HCTU and TCTU, New Coupling Reagents: Development and Industrial Aspects
O. Marder, Y. Shvo, and F. Albericio Chemistry Today, 2002, 20 (7/8), 37-41.
Thermal Stability Assessment of Peptide Coupling Reagents Commonly Used in Pharmaceutical Manufacturing
Jeffrey B. Sperry*, Christopher J. Minteer, JingYa Tao, Rebecca Johnson, Remzi Duzguner, Michael Hawksworth, Samantha Oke, Paul F. Richardson, Richard Barnhart, David R. Bill, Robert A. Giusto, and John D. Weaver III
Org. Process Res. Dev. 2018, 22, 9, 1262–1275