HBTU is coupling reagent for peptide synthesis.
CAS: 94790-37-1
Synonym: N-[(1H-benzotriazol-1-yl)(dimethylamino)methylene]-N-methylmethanaminium hexaflourophosphate N-oxide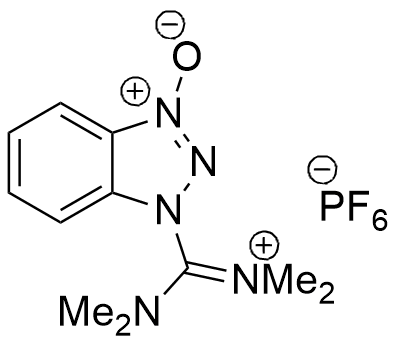 Molecular Formula
C11H16F6N5OP
Molecular Weight
379.30 [gr/mol]
Appearance
White to off-white crystalline powder
Storage Conditions
Store in a cool and dry place (20oC)
Recent studies show that crystal as well as solution structure of this coupling agent is a guanidinium N-oxide and not an uronium compound.
HBTU is attributed to various advantages, such as -very low racemization, simple reaction conditions, very short reaction time, and high yields.
HBTU mediated 1-hydroxybenzotriazole (HOBt) conjugate addition: synthesis and stereochemical analysis of β-benzotraizoleN-oxide substituted γ-amino acids and hybrid peptides
S. M. Mali, M. G. Kumar, M. M. Katariya and   H. N. Gopi Org. Biomol. Chem., 2014, 12, 8462-8472.


Read Article

Structural studies of reagents for peptide bond formation:Crystal and molecular structures of HBTU and HATU
I. Abdelmoty, F. Albericio b, L. A. Carpino, B. M. Foxman, and S. A. Kates Letters in Peptide Science, 1994, 1, 57-67.


Read Article

Peptide Coupling Reagents, More than a Letter Soup
A. El-Faham and F. Albericio. Chem. Rev., 2011, 111, 6557-6602.
Thermal Stability Assessment of Peptide Coupling Reagents Commonly Used in Pharmaceutical Manufacturing
Jeffrey B. Sperry*, Christopher J. Minteer, JingYa Tao, Rebecca Johnson, Remzi Duzguner, Michael Hawksworth, Samantha Oke, Paul F. Richardson, Richard Barnhart, David R. Bill, Robert A. Giusto, and John D. Weaver III
Org. Process Res. Dev. 2018, 22, 9, 1262–1275