TPTU applied in large scale applications for the synthesis of Pharmaceuticals, in particular in situations where sensitive functionality is present on the coupling partners, and as a consequence, mild reaction conditions are required.
CAS: 125700-71-2
Synonym: O-(2-Oxo-1(2H)pyridyl)-N,N,N′,N′-tetramethyluronium tetrafluoroborate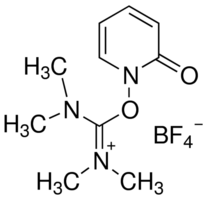 Molecular Formula
C10H16BF4N3O2
Molecular Weight
297.06 [gr/mol]
Appearance
White to off-white crystalline
Storage Conditions
Store in a cool and dry place (2-8oC)
TPTU together with HOBt have been used in coupling reactions, leading to the impressive outcomes of couplings free of racemization, thus are the reagents of choice for segment condensations.
TPTU has been applied in the preparation of activated Fmoc-His(Trt)-OH, reducing the racemization. Application of these coupling methods improved the quality of the crude product significantly, thus, this contribution represents a further step towards an optimal strategy for the incorporation of His. This method helps to overcome the problem of racemization for the His residue, a prerequisite for the synthesis of large peptides and proteins.
Coupling Methods for Fmoc-His(Trt)-OH Resulting in Minimal Racemization
M. Mergler, F. Dick, and Th. Vorherr BACHEM AG, Hauptstr., 144, CH-4416.
Large-Scale Applications of Amide Coupling Reagents for the Synthesis of Pharmaceuticals
J. R. Dunetz, J. Magano, and G. A. Weisenburger Org. Process Res. Dev., 2016, 20, 140−177.