TCTU is a Coupling reagent used for peptide solid-phase synthesis. Suitable for automatic multiple peptide synthesizers.
CAS: 330641-16-2
Synonym: O-(1H-6-Chlorobenzotriazol-1-yl)-1,1,3,3- tetramethyluronium tetrafluoroborate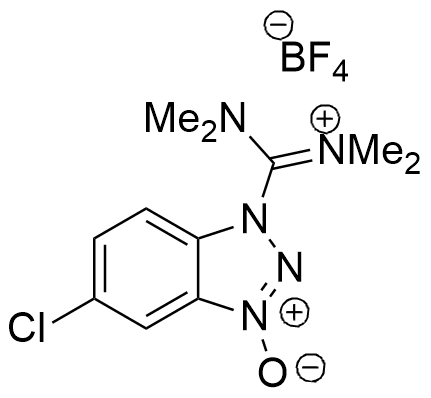 Molecular Formula
C11H15BClF4N5O
Molecular Weight
355.53 [gr/mol]
Appearance
White to off-white crystalline powder
Storage Conditions
Store in a cool and dry place (2-8oC)
TCTU shows better results when compared to TBTU.
Assessment of 6Cl-HOBt-based coupling reagents in solid-phase cyclopeptide synthesis
G. Sabatino, M. C. Alcaro, M. de la Cruz Pozo-Carrero, M. Chelli. P. Rovero, A. M. Papini  Biopolymers, 2003.


Read Article

Amide bond formation: beyond the myth of coupling reagents
E. Valeur and M. Bradley Chem. Soc. Rev., 2009, 38, 606-631.