One of the most popular in situ activation reagents in solid and solution phase peptide synthesis. In addition to having high reactivity, TBTU have also been shown to limit enantiomerization during fragment condensation.
CAS: 125700-67-6
Synonym: 2-(1H-Benzotriazole-1-yl)-1,1,3,3-tetramethylaminium tetrafluoroborate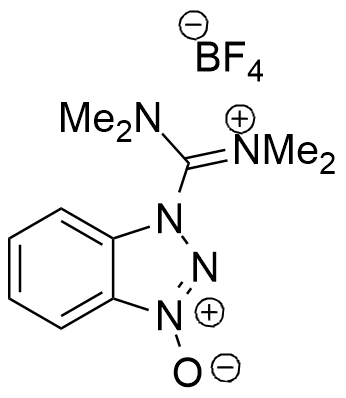 Molecular Formula
C11H16BF4N5O
Molecular Weight
321.08 [gr/mol]
Appearance
White to off-white crystalline powder
Storage Conditions
Store in a cool and dry place (20oC)
TBTU belongs to the family of Guanidinium and Uronium salts.
It affords fast amide bond formation and can be very useful for the coupling of sterically hindered amino acids in peptide synthesis.
TBTU is useful for the deprotection of tetrahydropyranyl, silyl ethers, and 4,4'-dimethoxytrityl groups. This reagent allows the removal of THP ether in the presence of TBDMS group as well as the selective cleavage of DMT functionality over TBDMS ether. This selectivity is of use in a variety of synthetic applications.
It has been employed by Simoneau and co-workers at Boehringer-Ingelheim in Canada for the large-scale preparation of orally active renin inhibitor BILA 2157 BS.
TBTU has also been reported by researchers at Boehringer-Ingelheim in Canada during the multigame preparation of macrolactam BILN 2061, an HCV NS3 protease inhibitor for the treatment of hepatitis C.
Amide bond formation: beyond the myth of coupling reagents
E. Valeur and M. Bradley Chem. Soc. Rev., 2009, 38, 606-631.


Read Article

O-(Benzotriazol-1-yl)-N,N,N',N'-tetramethyluroniumTetrafluoroborate (TBTU): A New Reagent for the Cleavage of Tetrahydropyranyl, Silyl and 4,4'-Dimethoxytrityl Ethers
K. S. Ramasamy, D. Averett Synlett, 1999, 6, 709–712.


Read Article

Thermal Stability Assessment of Peptide Coupling Reagents Commonly Used in Pharmaceutical Manufacturing
Jeffrey B. Sperry*, Christopher J. Minteer, JingYa Tao, Rebecca Johnson, Remzi Duzguner, Michael Hawksworth, Samantha Oke, Paul F. Richardson, Richard Barnhart, David R. Bill, Robert A. Giusto, and John D. Weaver III
Org. Process Res. Dev. 2018, 22, 9, 1262–1275