HATU is similar to HBTU, but reacts faster with less epimerization during coupling. Nevertheless, HATU is preferred to HBTU in most rapid coupling protocols (while it is utilized in the same manner as HBTU).
CAS: 148893-10-1
Synonym: 1-[Bis(dimethylamino)methylene]–1H-1,2,3-triazolo[4,5-b]pyridinium 3-oxid hexafluorophosphate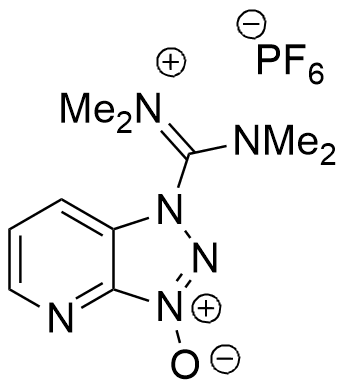 Molecular Formula
C10H15F6N6OP
Molecular Weight
380.23 [gr/mol]
Appearance
White to off-white crystalline powder
Storage Conditions
Store in a cool and dry place
HATU should not be used in excess because it can react with the unprotected N-terminal and block further chain elongation.
HATU is used for synthesis of Nα-urethane protected β-amino alcohols and peptide alcohols.
Used in rapid automated derivatization of solid-phase supports for oligonucleotide synthesis.
HATU is a members of the current generation of highly efficient coupling reagents suitable for the synthesis of peptides or proteins containing ''difficult'' sequences, b-branched and/or N-methylated amino acids.
Peptide Coupling Reagents, More than a Letter Soup
A. El-Faham and F. Albericio. Chem. Rev., 2011, 111, 6557-6602.
Advantageous applications of azabenzotriazole-based coupling reagents to solid-phase peptide synthesis
L. A. Carpino, A. El-Faham, C. A. Minor, and F. Albericio.    J. Chem. Soc., Chem. Commun., 1994, 201-203.
Structural studies of reagents for peptide bond formation: crystal and molecular structures of HBTU and HATU
I. Abdelmoty, F. Albericio, L. A. Carpino, B. F. Foxman, and S. A. Kates  Lett. Peptide Sci., 1994, 1, 57-67.
The Uronium/Guanidinium Peptide CouplingReagents: Finally the True Uronium Salts
L. A. Carpino, H. Imazumi, A. El-Faham, F. J. Ferrer, C. Zhang, Y. Lee, B. M. Foxman, P. Henklein, C. Hanay, C. Mugge, H. Wenschuh, J. Klose, M. Beyermann, and M. Bienert Angew. Chem. Int. Ed., 2002, 41, 441-445.

Accelerated chemical synthesis of peptides and small proteins
L. P. Miranda and P. F. Alewood Proc. Natl. Acad. Sci., 1999, 96, 1181–1186.