DEPBT is an effective coupling reagent for synthesis of linear and cyclic peptides by both solution and solid-phase peptide synthesis.
CAS: 165534-43-0
Synonym: 3-(Diethoxyphosphoryloxy)-1,2,3-benzotriazin-4(3H)-one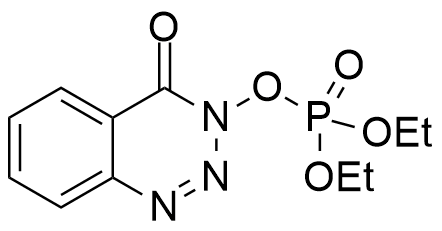 Molecular Formula
C11H14N3O5P
Molecular Weight
299.2 [gr/mol]
Appearance
White to off-white crystalline powder
Storage Conditions
Store in a cool and dry place (20oC)
DEPBT mediates amide bond formation with remarkable resistance to racemization.
When DEPBT is used as a coupling reagent, it is not necessary to protect the hydroxy group of the amino component (such as tyrosine, serine, and threonine) and the imidazole group in the case of histidine.
DEPBT has been shown to be highly effective for cyclolactamization of peptides.
DEPBT as an efficient coupling reagent for amide bond formation with remarkable resistance to racemization
Y. Ye, H. Li, and X. Jiang Peptide Sience, 2005, 80, 2-3, 172–178.


Read Article

DEPBT as Coupling Reagent To Avoid Racemization in a Solution-Phase Synthesis of a Kyotorphin Derivative
V. G. Ramu, E.  Bardaji, and M. Heras  Synthesis 46(11):1481.


Read Article