HONB has been reported as the additive of choice for water solid-phase peptide synthesis (SPPS).
CAS: 21715-90-2
Synonym: N-Hydroxy-5-norbornene-2,3-dicarboxylic acid imide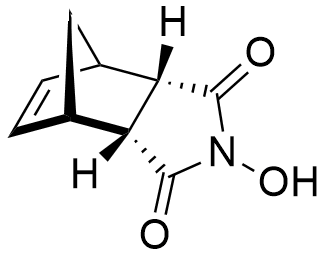 Molecular Formula
C9H9NO3
Molecular Weight
179.17 [gr/mol]
Appearance
White to off-white powder
Storage Conditions
Store in cool place
Active esters derived from hydroxamic acid, such as HONB, have also found broad application. The first were the O-phthalimido esters, which release a water-insoluble side product. However, these were soon replaced by the more versatile succinimido esters (OSu). The latter generate watersoluble N-hydroxysuccinimide, which is straightforward to remove from target peptides.
Solid-phase peptide synthesis in water using microwave-assisted heating
A. S Galanis, F. Albericio, M. Grøtli Org. Lett., 2009, 11(20), 4488-4491.