DMMTM is Reagent for activating carboxylic acids in solution and solid phase peptide synthesis; superior or comparable to the most popular coupling reagents.
CAS: 3945-69-5
Synonym: 4-(4,6-Dimethoxy-1,3,5-triazin-2-yl)–4-methylmorpholinium chloride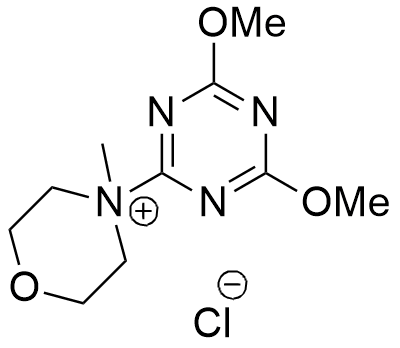 Molecular Formula
C10H17ClN4O3
Molecular Weight
276.72 [gr/mol]
Storage Conditions
Store in a cool and dry place (2-8oC)
DMTMM does not require pre-activation of the carboxylic acid.
The coupling efficiency in SPPS was found to be comparable to PyBOP while racemization could be kept below detection limit.
A systematic analysis of DMTMM vs EDC/NHS for ligation of amines to Hyaluronan in water
M. D'Este, D. Eglin, and M. Alini Synlett, 2000, 2, 275–277.


Read Article

Precise tailoring of tyramine-based hyaluronan hydrogel properties using DMTMM conjugation
C. Loebel, M. D'Este, M. Alini, M. Zenobi-Wong, D. Eglin C. Loebel Carbohydrate Polymers, 2015, 115, 325–333.
An in-depth analysis of polymer-analogous conjugation using DMTMM
J. M. Pelet  and D. Putnam Bioconjugate Chem., 2011, 22, 329–337.


Read Article

Solid Phase Peptide Synthesis in Water VI: Evaluation of Water-Soluble Coupling Reagents for Solid Phase Peptide Synthesis in Aqueous Media
K. Hojo, M. Maeda, N. Tanakamaru, K. Mochida, and K. Kawasaki Protein & Peptide Letters, 2006, 13, 189-192 189.