PyClocK®, a novel phoshphonium salts of benzotriazoles, which are highly reactive coupling agents, and are particularly useful in peptide synthesis.
PyClocK®, is the 6-chloro analogue of PyBOP, is a proprietary product of LuxembourgBio Technologies Ltd.
CAS: 893413-42-8
Synonym: (6-Chlorobenzotriazol-1-yloxy) tripyrrolidinophosphonium hexafluorophosphate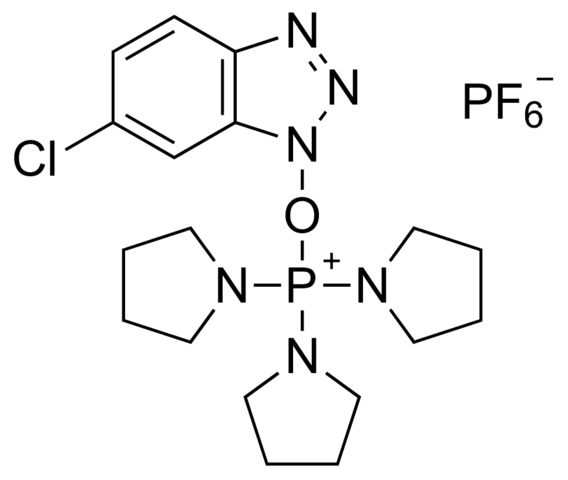 Molecular Formula
C18H27ClF6N6OP2
Molecular Weight
554.84 [gr/mol]
Appearance
White to off-white crystalline powder
Storage Conditions
Store in a cool and dry place (2-8oC)
Reaction of protected amino acids with PyClocK in the presence of base generates the corresponding 6-chloro-1-benzotriazolyl (Cl-OBt) ester. These active esters are considerably more reactive than those produced when using PyBOP or HBTU, owing to 6-chloro-1-hydroxybenzotriazole (Cl-HOBt) being more acidic than HOBt.
PyClocK® has been reported to be faster than PyBOP in activating hindered amino acids such as Fmoc-Aib-OH, and in some cases its reactivity was close to the most active reagent, PyAOP.
PyClock®, as other phosphonium salts, cannot react with free amine function and therefore does not terminate the peptide growing as the aminium salts do, through the formation of guanidine derivatives.
PyClock® is especially useful for slow coupling reactions and it can be used in excess to assure a complete activation of the carboxylic function.
PyClocK, the phosphonium salt derived from 6-Cl-HOBt
F. Albericio Chimica Oggi/CHEMISTRY TODAY, Vol 26 nr 4.


Read Article

Fast conventional Fmoc solid-phase peptide synthesis: a comparative study of different activators
C. A. Chantell, M. A. Onaiyekan and M. Menakuru J. Pept. Sci. 2012, 18, 88–91.


Read Article
PyClocK®, A New Phosphonium Salt from 6-Chlorohydroxybenzotriazole (Cl-HOBt) for Peptide Coupling
Juan A. Moreno, Núria Bayó-Puxan, Judit Tulla-Puche, Yoav Luxembourg, Rachel Philosof-Oppenheimer, Youval Shvo, Ariel Ewenson, and Fernando Albericio
View Poster