BOP, as other phosphonium salts, have the advantage of not yielding quinidinium by-products via reaction of the coupling reagent with amine.
CAS: 56602-33-6
Synonym: (Benzotriazol-1-yloxy)tris(dimethylamino)phosphonium hexafluorophosphate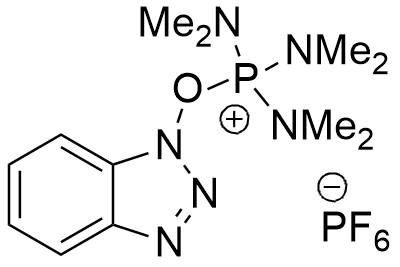 Molecular Formula
C12H22F6N6OP2
Molecular Weight
442.28 [gr/mol]
Appearance
White crystalline powder
Storage Conditions
Store in a cool and dry place (2-8oC)
The BOP reagent is introduced as HOBt derivative, which contains the racemization suppressant HOBt, avoiding epimerization and other side reactions that can take place with carbodiimide reagents.
Although it is an excellent coupling reagent, hexamethylphosphoramide (HMPA), a toxic compound is generated.
Large scale applications of amide coupling reagents for the synthesis of pharmaceuticals
J. R. Dunetz, J. Magano, and G. A. Weisenburger Org. Process Res. Dev. 2016, 20, 140-177.