TFFH is an air-stable, nohygroscopic solid, has been shown to act as a coupling reagent that proceeds via in situ conversion to an acid fluoride.
CAS: 164298-23-1
Synonym: Fluoro-N,N,N′,N′-tetramethylformamidiniumhexafluorophosphate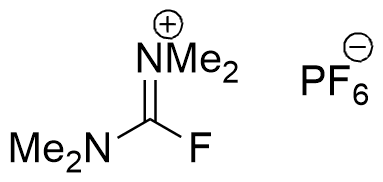 Molecular Formula
C5H12F7N2P
Molecular Weight
264.12 [gr/mol]
Appearance
White to off-white crystalline powder
Storage Conditions
Store in a cool place
When TFFH is used, the active specie is the acid fluoride, which is very reactive due to high electronegativity of the F and it small size.
TFFH was reported as a convenient reagent for the preparation of isothiocyanates from the corresponding primary amines in the presence of carbon disulfide.
TFFH is a useful reagent for the conversion of carboxylic acids into anilides, hydrazides as well as acyl azides.
TFFH is substitute for the corrosive cyanuric fluoride and suitable for the preparation of acyl fluorides even when unsaturated double bonds, hydroxyl groups, or aromatic rings are present.
TFFH is especially useful for the two amino acids histidine and arginine since the corresponding amino acid fluorides are not stable toward isolation or storage.
Tetramethylfluoroformamidinium Hexafluorophosphate: A Rapid-Acting Peptide Coupling Reagent for Solution and Solid Phase Peptide Synthesis
L. A. Carpino and A. El-Faham J. Am. Chem. Soc., 1995, 117 (19), 5401–5402.
Tetramethylfluoroformamidinium hexafluorophosphate (TFFH)/benzyltriphenylphosphonium dihydrogen trifluoride (PTF): a unique reagent for the conversion of carboxylic acids to the corresponding alcohols as well as hydroxamic acids
A. El-Faham, S. N. Khattab, M. Abdul-Ghani. ARKIVOC, 2006, xiii, 57-63.


Read Article

Utilization of N,N,N',N'-Tetrafluoroformamidinium hexafluorophosphate (TFFH) in peptide and organic synthesis
El-Faham, S. N. Khattab Synllet, 2009, 6, 0886–0904.


Read Article